THUVF1 Red
TYT Dual Band two way radio VHF/UHF TH-UVF1 Red
Key Specifications/Special Features:
Dual band, dual standby, dual frequency, dual display handheld two-way radio, multi-band selection
General:
Output power: 5/1W (VHF) and 4/1W (UHF)
Frequency range: 136 to 174, 400 to 470mhz
Working mode: V-U, U-U, V-V, and U-V
Channels: 199
Bandwidth: 25/12.5kHz
Channel step: 5/6.25/10/12.5/25/30/50kHz optional
Voltage: 7.4V DC/1,500mAh Li-ion battery
Main functions:
Digital FM radio receiver
ANI code
Tri-color backlight (blue, purple, and orange)
Voice prompt
Emergency call
Full-CH/FR mode/self-program/online program/manual adjustable
Manual/electrical transfer (signaling frequency offset, power, and sensitivity)
50 groups CTCSS code/decode
104 groups CDCSS code/decode
Hi/low power selective
TOT (time-out-timer)
Multi-scan function
0 to 9 grade squelch selective
VOX sensitivity adjustable code/decode
End-tone elimination
2tone/5tone
Direction of differ frequency, frequency difference set
SCR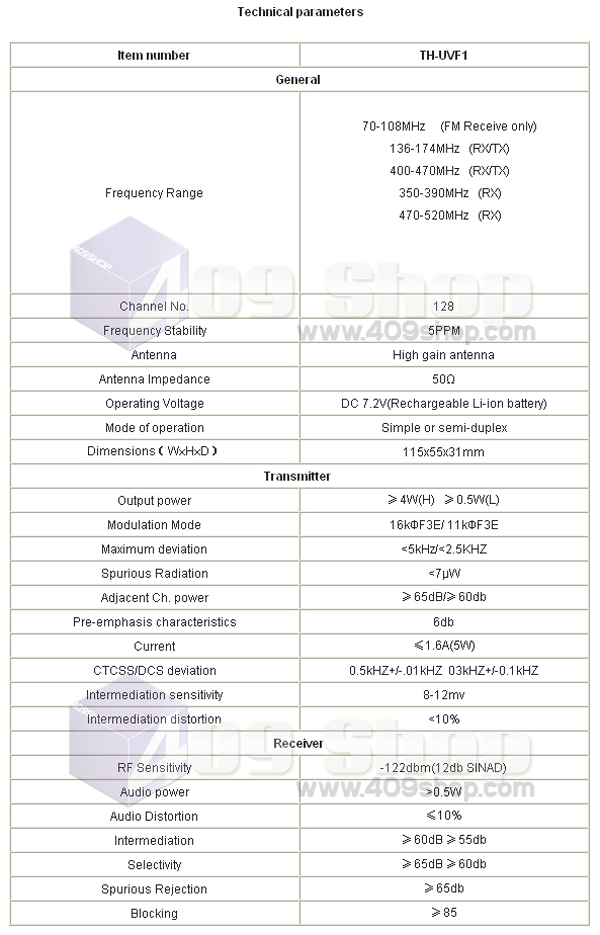 Photo will have chromatic aberration compared with the product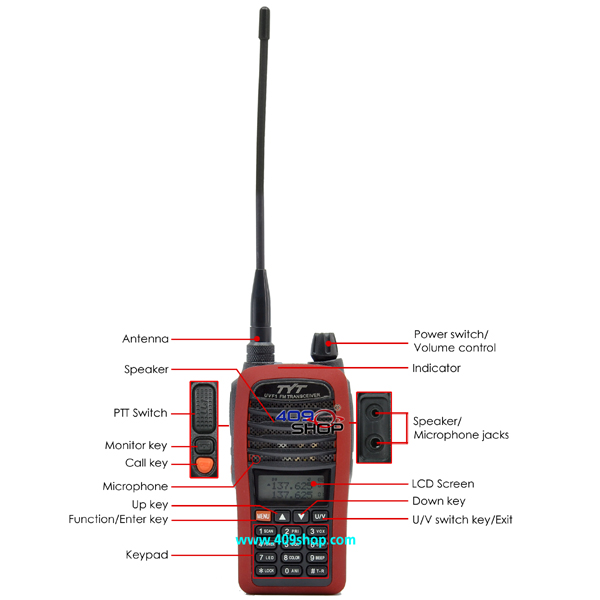 1x TYT radio TH-UVF1 Red Dual and (VHF 136-174Mhz and UHF 400-470MHZ)
1x 7.4V 1500mah Li-ion Battery Pack
1x Dual band Antenna.
1x Car Charger
1x Belt Clip.
1x Earpiece with PTT ( Model build-in SCR / 2tone/5tone )
1x Wrist Strap
1x English Manual
1x Desktop Charger *
*100V ~ 240V PSU ( Provide Plug for USA / UK / EURO / Australia)
***所有貨品更改規格,或與說明書不乎,不另外通知,以收貨標準為準.